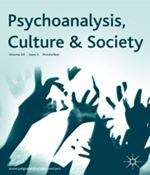 In an interim release (v2022), PEP has added the complete contents (26 volumes, 1996-current) of the journal, Psychoanalysis, Culture & Society, now available to all PEP-Web subscribers.
Currently in its twenty sixth year of publication, the academic journal, Psychoanalysis, Culture & Society was founded by an international group of academics to provide a space where critical intellectuals from the fields of politics, cultural studies, and the humanities, as well as both academic and clinical psychoanalysts could engage in dialog to understand pressing social trends.

A key underlying purpose of the journal is to explore issues of social justice and understand obstacles to progressive social change. The journal does not endorse any one single psychoanalytic viewpoint or orthodoxy but is open to a variety of psychoanalytic perspectives that address the intersection of psychoanalysis, culture and society and that explore pressing issues of equity, inequality, sustainability, theories of subject formation, and the potential for emancipatory clinical practice.
As well as rigorous Original Articles, the journal welcomes alternative and experimental forms of writing in its Counterspace, and also publishes reviews of new academic books in psychoanalysis and critical social sciences that are in line with its mission.
The journal is co-owned by international publisher Palgrave/Springer, and the Association for the Psychoanalysis of Culture & Society, which holds an annual academic meeting usually at Rutgers University in New Jersey, USA in late October. All articles published in the journal are subjected to rigorous peer review from members of our distinguished international Editorial Board.
Due to contracts with the publishers, there is a three-year moving wall (embargo of current articles) for Psychoanalysis, Culture & Society. This means, you can browse the tables of contents up through the current issue, and searches include the complete text of the articles, but only the titles and abstracts (or summaries) will be displayed for articles from 2019 and newer. For details on how to read the full text of 2019 and more current articles see the publisher's official website here.